Climate protection in animal husbandry
3.79 percent of all greenhouse emissions in Germany come from agriculture as a result of producing meat, milk, butter, eggs and cheese for us all. We work together with our partners from animal husbandry in order to continuously improve the climate footprint of meat production – for climate-friendly animal husbandry and meat production.
Meat is an important source of nutrients which provides the body with essential proteins, vitamins and minerals. However, manufacturing this valuable food requires resources.
Animal husbandry and feed production in particular generate the most emissions that have implications for the climate. This includes methane emissions from animal husbandry, spreading manure, and nitrous oxide emissions from soil used in agriculture.
Since 1990, German agriculture as a whole has already reduced its greenhouse gas emissions by more than 20%, whilst simultaneously increasing production quantity.
Important key figures
Facts on pork and climate in Germany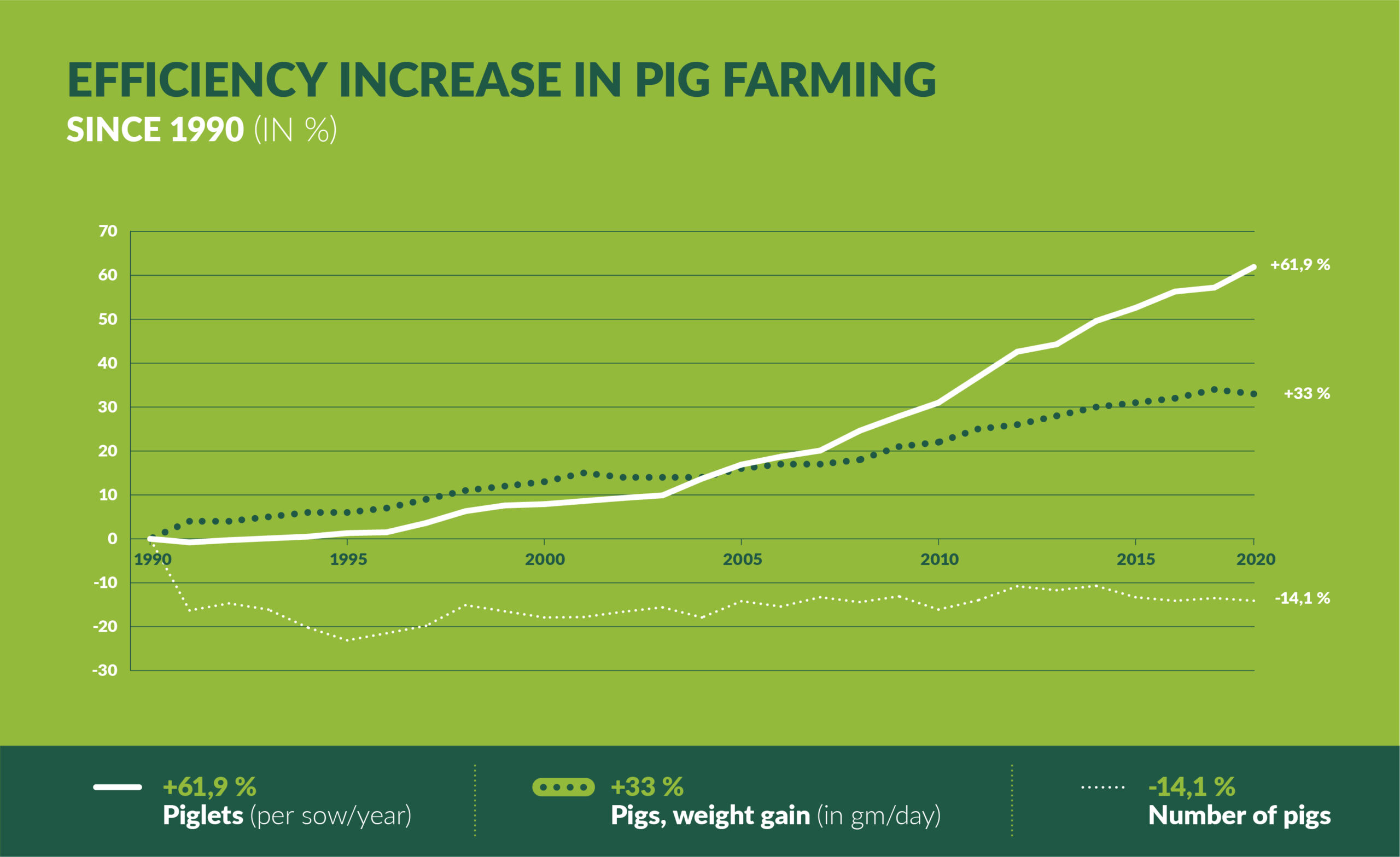 Own graphic
More pork using fewer resources
Own graphic. Source: Destatis and Thüren Institution 2019
Our work
Tönnies works with partners on innovative solutions for climate-friendly pig and cattle farming, culminating in proper cycles. In doing so, we and our partners also develop tools for resource-saving agriculture. With each initiative in climate-friendly animal husbandry and feed production, we also take into account the latest animal welfare criteria and the economic aims of the farmers, their families and the dependent jobs. We are thus drivers for the future of the rural regions and accept our responsibility for the well-being of people and animals as well as for climate protection. In the past three years, we have intensified our efforts to enable climate-neutral livestock farming.
Activities to improve the climate footprint for meat in animal husbandry:
Implement good agricultural practice
Improve the robustness of breeding animals, breeding, and feed conversion of the animals
Sustainable feed concepts (e.g., through protein-reduced multi-phase feeding)
Improve manure management (e.g., through the reduction of mineral fertilisers and better use of organic fertilisers)
Research to identify previously unused potentials
The German Federal Environment Agency calculated that 7.3 % of total greenhouse gas emissions in 2017 were the result of agriculture and animal husbandry in Germany.
In Germany, agriculture contributes to the emission of the following greenhouse gasses:
Methane (CH4)
This gas is produced during the digestion of grass and other plant components, in particular by dairy cows, and in the storage of farm manure, in particular from cattle. The fermentation steps in the gastrointestinal tract of the animals are required to enable nutritious foods such as dairy products or meat to be produced from green plants such as pasture grass.
The cattle emit the methane into the atmosphere. However, if, as in Germany, the size of the cattle herd remains the same, or decreases, there is no increased negative effect on the climate because it is converted into CO2 over a period of nine to twelve years. Plants and grasses use this CO2 to produce carbohydrates as part of the photosynthesis process. The cows and cattle then ingest them in the form of grass or other plant food so that the emitted methane is part of a continuous cycle and its quantity remains constant.
Other livestock, such as pigs, do not produce methane because they are not ruminant animals and have a different digestive system.
Carbon dioxide (CO2)
This gas is released in significant quantities when, for example, pasture land is converted to arable land. In recent years, pasture land has increasingly been converted to farmed arable land to meet the increasing demand for high-quality foods. The use of urea-based fertilisers and the application of lime to soil also releases quantities of carbon dioxide.
Nitrous oxide (N2O)
Nitrous oxide is generated in agriculture and animal husbandry, both directly and indirectly: Direct emissions of nitrous oxide are mainly the result of nitrogen-based fertilisers (e.g., mineral fertilisers and manure) if this exceeds the fertiliser requirement of the cultivated plants. Other causes are the farming of organic soil, crop residues in the soil and fermentation residues from biogas plants. Indirect nitrous oxide emissions occur if reactive nitrogen compounds such as nitrate and ammonia leak into the surrounding natural habits and are then converted back into nitrous oxide.
Own graphic. Source: UC Davis Clear Center
In comparison
The emissions from fossil fuels for heating, power generation and transport alone made up 84.9 % of all greenhouse gas emissions in Germany in 2016.
Scientists have calculated that halving the meat consumption in Germany would only reduce greenhouse gas emissions by the same amount as replacing two percent of emissions from lignite by wind energy.
For thousands of years, livestock has been an essential part of the circular economy practised in central Europe. They enabled the development of human civilisation in Europe. Without livestock there would not have been, and would still not be today, any animal-based protein and no organic fertilisers for crop plants.
Today too, this circular economy also makes an important contribution to meeting the demand for protein-rich foods and, specifically, meat products. But this uses up resources.
For many years now, we have been working on reducing the associated emissions in a pragmatic, targeted way and in cooperation with agricultural producers, science and research as well as authorities and associations. Our responsibility starts with the reduction of our own emissions at our production sites. We also support our agricultural partners in improving their climate footprint.
We created a comprehensive analysis of the carbon footprint for a pork schnitzel back in 2011.
Tönnies CO2 Footprint 2011
From this basic analysis, we defined a series of levers which since then we have used as a basis for our work with our partners with regard to producing pork and beef that is as climate friendly as possible. Our focus is on implementing climate protection goals in animal husbandry. We are on the right track to achieve this.
Germany as a favoured region
Agricultural exports to different parts of the world are a key element for providing a growing world population with high-quality, safe foods. Our homeland of Germany is a "favoured region" for the manufacture of meat products.
Germany is thus one of the most important meat producers in the world with regard to meeting the demand for meat and protein. Here, the highest animal welfare and consumer standards are applicable, together with provisions for climate protection. These provisions ensure that at Tönnies we already achieve a climate footprint in the manufacture of meat products that sets worldwide standards. We started to reduce our emissions early on. And with our partners from animal husbandry, we are actively working on improving the climate footprint of agriculture. We will continue on this path in the coming years.
Unlike, for example, private transport, tourism or the heating temperature at home, as one of the most important providers of protein, meat is essential for the human diet. Yet livestock husbandry is also important for natural cycles because without it, there is no organic fertiliser, no use of grasslands for human food and much more.
A favoured region is mainly characterised by areas with a natural advantage – with fertile soil, moderate climate, sufficient rainfall. Furthermore, technical knowledge, qualified experts and a well-developed infrastructure also have a positive effect on agriculture and the provision of raw materials, and enable good yields and products. Germany is a favoured region due to its climate and also its very good trade infrastructure.
A favoured region is mainly characterised by areas with a natural advantage, with fertile soil, moderate climate, sufficient rainfall. Furthermore, technical knowledge, qualified experts and a well-developed infrastructure also have a positive effect on agriculture and the provision of raw materials, and enable good yields and products. Germany is a favoured region due to its climate and also its very good trade infrastructure.
Other measures in the production chain:
environmental management and careful handling of resources at our production sites
optimised logistics chains
use and processing of the entire carcass
careful handling of raw materials and energy resources in the supply chain
Looking further ahead
All measures are in vain if meat is not appreciated as it should be. It is one of our social tasks to best use the valuable resources resulting from the carcasses and to avoid waste.
First of all, we ensure that as much of the entire carcass is used as possible. The export of pork from the agricultural nation of Germany also successfully helps to sell parts of the pig that are a delicacy in other parts of the world, but which are not eaten in Germany. For example, pigs' trotters, stomachs, ears, veins, cartilage and much more.
We also want to implement hygiene standards that are as high as possible in order to minimise germ contamination on the meat and enable a long shelf life.
Marketing of a pig
Our goals
The bases for the further reduction of emissions from animal husbandry are there.
It is our goal to implement technology available on the market more widely in cooperation with our partners. In this regard, there are hurdles to overcome and initiatives to set. We are thus committed to politics and, by implementing successful pilot projects, establish facts that pave the way for further developments. With the open-stall system, we support the separation and composting of the faeces and urine and, with the preparation of the manure, we see this as a substitute for mineral fertiliser. By 2030, we hope to completely do without South American soya and also to half the share of soya in piglet and pre-fattening food. The final fattening food should contain no soya at all.
Tönnies is looking forward to seeing the results of work carried out by researchers from the University of Kiel in a major joint project with the Association for Technology and Structures in Agriculture (KTBL https://www.ktbl.de/themen/emimin), which looks at how dung-urea separation systems impact emissions. This creates a useful database for new stall buildings and approval processes. The project is currently being conducted in barns at the research institutes.
Tönnies is committed to the integration of resource-saving processes in programmes for sustainably produced meat. The expectation here is that, in addition to issues of animal welfare, elements of resource protection can also be given reasonable consideration. The Tönnies Group is actively involved with the development work carried out by the Kompetenznetzwerk Nutztierhaltung (network for improvements in animal husbandry – Borchert Commission) and supports work towards a national consensus on livestock.
To slow down the large-scale death of farming, we also want to create future perspectives for our agricultural producers. The next generation of farmers deserves the chance to continue the work of previous generations of their family with optimism and without fearing for their existence. Furthermore, Tönnies strives for an improvement in knowledge of the importance of animal production for cohesion and economic power in rural areas.