Current information on the COVID-19 situation at Tönnies
On 20 July, Tönnies published its "Immediate Action Plan for extended pandemic prevention and for modification of the work, living, and animal husbandry arrangements".
In this section, the company will provide information on the current developments relating to the outbreak of coronavirus and production at the main site in Rheda-Wiedenbrück which resumed on 14 July.
Relating to this, the Tönnies Group published an Immediate Action Plan (see below) on 20 July 2020 with the aim of further reducing the risk of a pandemic and modifying this in line with the latest scientific findings. Furthermore, the Immediate Action Programme also includes important changes made by the Tönnies Group with regard to the areas of Living, Working and Animal Husbandry.
In addition to this Immediate Action Plan, you can find a fact checker, a chronology of the events in Rheda-Wiedenbrück in recent months, the latest press releases and information on tests and findings for other German locations.
I. Pandemic prevention
The Tönnies Group drew up an extensive hygiene plan for pandemic prevention at the Rheda-Wiedenbrück site at an early stage. This plan has continued to be expanded and refined. Following the sudden outbreak at the production site in Rheda-Wiedenbrück, in July 2020 Tönnies, in collaboration with the responsible authorities and scientific experts, agreed a total of eleven additional measures, which are implemented with immediate effect in an effort to prevent a pandemic. The implementation of these measures involves high financial and personnel costs and the cooperation of employees from production and administration at the sites. A number of these additional measures were already included in the hygiene plan in a similar form prior to the outbreak.
The measures included in the Immediate Action Plan are initially being implemented at the main site in Rheda-Wiedenbrück. Following this, selected measures required as a result of the pandemic will be introduced at the other German sites for the Tönnies Group. The specific organisation of the measures at the other sites is dependent on:
valid official regulations and requirements,
circumstances and space at the sites,
the infection rate in the region of the other sites and the associated regulations from the authorities during the pandemic.
The experiences and intensive investigations into the outbreak in Rheda-Wiedenbrück in June 2020 are a fundamental element of the expanded health concept for pandemic prevention.
1.Housing and accommodation
The Tönnies Group is forming a housing management company. This will arrange rental contracts with employees who have been in a work contract relationship until now and who do not rent their own accommodation privately, irrespective of the employment relationship. Around 70% of workers at the Rheda-Wiedenbrück site previously lived in privately rented apartments, and 30% lived in communal accommodation. The housing management company looks after all accommodation for employees and implements a defined hygiene and cleaning plan, which includes a weekly deep clean.
Until implementation of the accommodation plan and the housing management company, Tönnies is conducting checks of the accommodation to ensure compliance with the MAGS recommendations for protection against infection from the coronavirus in communal accommodation (from 11/05/2020). These accommodation checks are exclusively for communal accommodation.
2. Transport
On buses travelling to or from the workplace with more than nine persons on board, only every second seat may be occupied at the most. If several persons sit in one vehicle, a medical face covering is required. In mini buses, for transporting fewer than nine persons, there is a maximum limit of five persons.
3. Address management and company tracking of employees
The individual companies within the Tönnies Group have the task of preparing the data and addresses of their employees, summarising it and archiving it in such a way that queries from offices and authorities can be answered as quickly as possible.
An HR-based database for the residential and temporary addresses of employees, as in Rheda-Wiedenbrück, is one option. It is maintained on a daily basis and new employees are registered in the town with a full address. It is important that the data is complete and relevant, and that it is continuously updated. To do so, the required formal legal agreements and consultations were concluded with the contract companies to prevent a breach of valid data protection guidelines.
4. Mass testing
During the pandemic period, Tönnies will establish mass testing for all production employees. To do so, for example, a mobile tent will be constructed at the plant entrance so that the employees can be tested twice each week. The tests are carried out by independent medical services and examined in independent accredited laboratories.
5. Training for employees
On the first day of recommencement of employment, Tönnies provides training for each employee on all essential measures. The training sessions include instructions on how to correctly wear a face mask and each employee is also given a multilingual information brochure on the general occupational health and safety measures. These include additional information: in case of symptoms, stay at home; no handshakes; correct handwashing; distancing; continued pay in case of illness. The training sessions will be supplemented with on-going information campaigns.
6. Occupational healthcare and medical check
Tönnies is placing greater emphasis on the occupational healthcare of employees from all companies at the production site of Rheda-Wiedenbrück within the hygiene concept and integrates it more closely with the company measures. The procedure at this site is the pilot for corresponding implementation at other sites.
The goal is to create examination and treatment options directly at all sites – depending on the site-specific requirement and number of employees. It is already in practice at many sites.
If not already available, extra space will be provided at each company so that doctors can practice directly on site. Until then, company doctors will hold regular telephone conferences every 14 days to coordinate their response. In addition to the obligation to provide compulsory and recommended occupational healthcare, elective healthcare in relation to COVID-19 issues will also be available and purchased. Doctors will also offer more advice via telephone and video calls. Furthermore there will be an additional medical check of all employees at the turnstile at the start of each shift.
7. Canteen plan
The canteen plan for pandemic prevention has again been fine-tuned on the basis of new findings: additional break areas, strict separation of employees from different production departments and individual canteen plans for each work area. Additional physical barriers have also been placed between the canteen high tables and canteen seated areas as well as plexiglass partitions on the tables.
8. Social areas and route guidance
To separate employees, a clear route through the company has been defined for all subsections of the companies, which gives even better separation than before through the equalisation of space and time. This is based on well-organised time management of all company-internal processes. Taking into account the measures of keeping a distance and wearing a medical face mask, this is an additional preventative step for the employees.
9. Face masks and minimum distances
The company requires employees to use at least a medical face mask in all areas of the company. An OKE mouth and nose mask must be worn for slaughtering. There will also be new training sessions on correct usage and maximum wear time of the face masks. This measure is complemented with an extended checking plan for safe compliance with the face mask requirement in all areas.
10. Workplaces: minimum distances in production and partitions
The organisation of all workplaces in the production departments has been reanalysed and checked again to ensure distances between the workplaces of at least 1.50 m across the board. Workplaces which do not always require the minimum distances have also been identified. Here additional measures were developed and implemented such as partition walls or slatted partitions. These measures are supplemented by technical measures, pilot projects for active air extraction and filtering as well as mobile HEPA devices (see section on Ventilation Technology).
11. Checks
The existing checking system is being expanded and the check frequency increased. Specific persons within the company have also been identified as "Corona Officers" and are responsible for compliance with the rules within a defined area.
II. Ventilation Technology
Scientific evidence has now shown that the circulating air in the butchery section of the Rheda-Wiedenbrück site played a significant role in the virus being able to remain and spread in particular sections of the production areas. This was primarily determined by Prof. Dr. Martin Exner of the Institute for Hygiene and Public Health at the University of Bonn.
These findings are a world first and were scientifically investigated for the first time in view of the outbreak at the plant in Rheda-Wiedenbrück. As a result this was previously not regulated in any way – neither through occupational health and safety nor through other specifications for meat production.
On the basis of far-reaching findings and the recommendations of experts, the Tönnies Group will implement technical measures so that the employees are better protected from the virus than before. These measures represent a new standard for the global meat industry.
12. HEPA filtration and other measures to improve ambient air in specific risk areas
To remove any virus from the air circulating in the room, decentralised HEPA filtration devices have been introduced. The devices are basically constructed in such a way that the main filter that retains the superfine virus is protected and its functionality preserved by appropriate coarser prefilters. The devices have automatic filter regeneration and virus decontamination by means of heat cleaning. Different HEPA filtration systems have been purchased so that the devices are suitable for the different usage cases in production areas and canteens. The devices are positioned at a height so that the exhaled air in the work area is drawn in and blown into the recirculating air of the evaporator above head height. All devices are equipped with the maximum HEPA status H13 or H14, which is suitable for clean room technology such as that used in hospitals or by chip manufacturers.
In other areas, measures to possibly improve the ambient air are being implemented. These include increasing the supply of fresh air and a continuous review of the existing UV disinfection systems.
III. Working
The Tönnies Group is working towards direct hiring within the Group of all employees who currently work on a contract basis in core areas of production.
13. In the area of production, a pilot project will see 1,000 contract employees at the Rheda-Wiedenbrück site employed directly by the Tönnies Group from 30 September 2020.
14. Based on the experience of this pilot project, all employees in the slaughter companies within the group from the core areas of slaughter and butchering will be hired directly by Tönnies in the next six months. 
15. The time recording system previously available will be transferred to a digital time management system as of 01 August 2020.
IV. Living
The Tönnies Group will provide a range of accommodation for employees who have previously held a work contract and who have not arranged private rental of accommodation. The aim is to construct additional housing at the sites and offer the employees a home, in addition to the existing housing in the regions around the various sites.
The majority of contract employees who work for the Tönnies Group already live in their own apartments, for example, as in Böklund (80% of employees have their own apartment) or in Rheda-Wiedenbrück (70% of employees in their own apartment). Our aim is to make the conditions for the existing contract employees attractive enough for them to consider that their lives are focussed in the area around their employer and so can permanently live locally and feel comfortable.
The housing plan provides solutions for different production locations. The first steps have already been taken. The Group started with the construction of new housing at the main site in Rheda-Wiedenbrück as the demand there is particularly high. Our approach includes:
16. In the short term, 400 residential places will be rented in Rheda-Wiedenbrück by 01 September 2020 so that the employees who are now employed directly can be offered housing.
17. Tönnies has already established two housing management companies. The goal is to create a separate housing offer with defined standards for the employees at the production sites and thus relieve the local housing market.
In addition to the short-term units, in the next step, 1,500 accommodation units will be created in existing buildings and newly constructed buildings:
Single units
Room with bathroom, kitchen, communal areas for free time and outside area (ideally split into two to four areas)With this proposition, we are targeting persons who are at the start of their employment, who are alone on site and who intend to return home in the medium term.
Couples apartments
With this model, we are targeting employees who come to Germany with their partner in order to stay here, primarily for a limited time: this offer is also suitable for employees who have met a partner in Germany and who need a suitable apartment.
Multi-family houses (MFH)
Multi-family houses are intended for persons whose families have been with them in Germany from the start: this proposition is suitable, on the one hand, for persons from the existing workforce who have not yet found an apartment.On the other hand, employees who want to move out of a. and b. units, for example, because they want to start a family or simply require a change in their living situation for other reasons, are also eligible for this offer.
18. A housing standard and cleaning standard is being introduced which is valid for all apartments provided by Tönnies and which is ensured with regular audits and visits.
The following minimum criteria are valid for existing accommodation:
Minimum size 11m2 per bedroom
At least one shared bathroom per six persons
Cleaning and social services (at least once each week)
Equipment and furniture standards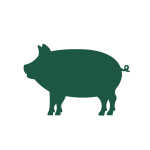 V. Animal husbandry
For many years, the Tönnies Group has been a pioneer in issues of animal welfare, the farming label and transparency for consumers. With this Immediate Action Plan, the Tönnies Group is following this approach. We are also making every effort to push forward with the issue of "Animal Husbandry and Animal Welfare" and to set standards for the entire industry.
Current animal welfare actions before the slaughter of pigs
Using the example of the Rheda-Wiedenbrück site:
80 % of the pigs come from within 100km of the abattoir.
Animal Welfare Officers check all of our sites.
All employees who deal with living animals have an official certificate of competence.
Video systems monitor central slaughter processes that are relevant to animal welfare.
All pig abattoir sites work with modern CO2 group stunning systems for stress-free delivery and deep anaesthesia. This is how we ensure that every animal is unconscious before death.
All cattle abattoirs have modern stunning systems to prevent stunning failures.
We are continuously investing in new, modern animal protection measures.
We have a separate unit for animal protection and animal health, which reports directly to management and the Board of Directors.
We require our suppliers and partners to comply with the animal welfare standards set by us.
We train our suppliers in our animal welfare standards and provide special instruction on them.
Current animal welfare actions before the slaughter of cattle
Using the example of the Kempten site:
Trained employees to drive the animals down ramps after transportation
Waiting stall period from two to three hours
Moved to the stunning facility along a sloping and round race system
Recorded use of electronic prods in individual cases
Bolt shot stunning with permanent video monitoring
Eyelid reflex check of all animals
We handle the animals in a gentle way that is as stress-free as possible at all stations, from unloading to bleeding.
Retailers and consumers are increasing asking for pork and beef from farming methods that exceed the statutory regulations. To meet this requirement, the Tönnies Group has developed a number of solutions in recent years. These are also incorporated in the Immediate Action Plan.
19. Tönnies is driving forward the issues of animal farming and animal welfare and, together with its specialists and non-profit Tönnies Forschung (Tönnies research company), is developing the scientific principles for ensuring future-proof farming that is compliant with animal welfare provisions.
Tönnies Forschung (more under http://www.toennies-forschung.de/tf/home.php) helps to further research animal welfare-relevant criteria for livestock husbandry and to develop recommendations for practice. Both the work supported by Tönnies Research and external work produce valuable findings.
20. For years, Tönnies has used communication initiatives to provide information about the current farming systems here in this country, which criteria they fulfil and which measures the farmers are implementing here.
In 2018, Tönnies together with the German retail companies introduced the Haltungsform [farming method] label for meat in Germany (more under www.haltungsform.de). Meanwhile, all packaging and fresh meat counters show how the animals whose meat we eat were kept.
21. Tönnies acknowledges the result of the Borchert Commission of the Federal Ministry for Agriculture and definitively supports the animal welfare levy.
Tönnies supports the plans from the Borchert Commission which aims to introduce a nationwide animal welfare levy in Germany and to develop sustainable livestock farming.
Tönnies is fully behind the recommendations of the Borchert Commission, provided that the additional expenditure from the consumers goes directly to the farmers. This is because they are the first line of responsibility and are required to make investments in order to rebuild and improve the farming systems for livestock.
22. Tönnies is driving forward the transition of the entire basic range in German retailers to farming system 2.
Tönnies is also pursuing the goal of switching to farming method 2 ("indoors plus") for most pork production in the future. This means that, in the future, pork will increasingly be produced using methods which at least meet the criteria of farming method 2. Furthermore, the products that Tönnies manufactures will be guided by the demand from retailers, end consumers and customers from the hospitality and wholesale industry.
Indoors Plus (level 2) with the blue label identifies meat that is from a husbandry system that exceeds the statutory standards. This also includes the meat from companies that are part of the Initiative Tierwohl [animal welfare initiative]. The animals here have at least ten percent more space in their stall than is required by law and they have additional manipulable material. In addition, level 2 requires participation in a QA system, continuous monitoring of antibiotics, monitoring of diagnostic data from the abattoir, animal health index and access to daylight for the animals.
23. We are working with partners to further develop piglet production. There is currently a major project with stalls that enable the pigs to run free with group suckling of the piglets.
This model of free group farming is scientifically developed and then integrated in the market in collaboration with our partners in piglet production.
24. Tönnies is expanding the offer for farming method 3 ("Outdoor") 3 to 3,000 pigs/week.
At the same time, the construction of open-front stalls is being encouraged, both organisationally and structurally.
 Animal husbandry that is compliant with level 3 with the description "Outdoor" requires that the meat comes from animals that have access to outside areas. This level thus corresponds, for example, to the guidelines for the Neuland agricultural association. Neuland meat is produced, for example, with feed that is not genetically modified, the animals have more room in their stall and outdoor access. Animal husbandry at level 3 is indicated with an orange label.
25. Due to the responsibility we have because of our importance in the market for the slaughter of cattle and pigs in Germany and Europe, it is not enough for us to persevere with our established and proven processes which, in some cases, have significantly exceeded the measures required in law for some years now.
For this reason, we are driving forward the development of automated recognition of unconsciousness after bleeding of pigs and cattle.
Pork: modified CO2 stunning for further reduction of the frequency of aversive reactions (by end of 2022)
Cattle: automated recognition of localisation for the bolt shot by the end of 2022